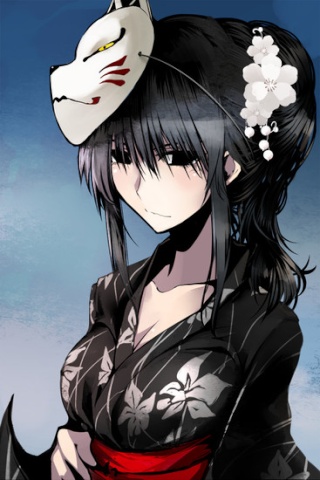 Who are you?
Name
: Kusatta Kurada
Nickname
: "The Queen"
Age
: 24
Sexuality
: Straight
Race
: Human
Special features
:  N/A
What are you like?
Personality
: A woman of few words. She is humble in her manners and will call things as she sees them. She has littler tolerance for the unwise and the foolish. If she could, she would give the world knowledge, but after all, knowledge is power. She will do everything in her power to keep an upper hand. She will manipulate people as well her own friends to ensure her plans go without fault. She has little time for bullshit and she will let you know.
On the battle field she becomes cold and heartless. She does not lead, she does not follow. She simply does as is needed to be done, even if it means killing her own allies to ensure survival. She lives by a Code of Death. Meaning, should their be an opponent that she was unable to strike down, only to have another kill her target for her, she will be in debt of that person.
She is honorable, and will speak little to no words (as was stated). She is kind at heart, but cruel in nature. It was by the nature of her people she became the way she was. It was by chance that her family was killed before her eyes.
Likes
:
- Masks
- Destruction
- Death
Dislikes
:
- Old food
- Liars
- Dirty People
Motivations
:
- Power, Sje wants to control the world
- New Kingdom, if he can get more kingdoms under her hand she gladly will take it.
Fears
:
- Her mother, She was told stories about her eating her parents alive
- Spiders, She finds them creepy on how many limbs they have
What do you look like?
Height
: 5'6"
Weight
: 118.23lbs
Eye color
: Blue
Hair color
: Black
Appearance
:
Where have you been?
Background
: N/A
History
:  Born to noble family, Kusatta had many ties to the King of Gestark. She was not heir to the throne nor the next in line by any means. She was just another one of the King's Men's Daughters... a daughter who took to the battlefield with a sword in hand. When her family had gone to war with the outlying creatures that surrounded her city she gladly took up arms to defend what was hers. The rightful King found no reason to send the poor to fight for him, so he joined into the fight. As if by unfortunate circumstance, the very people Kusatta swore to protect, were the ones killed before her. She watched as the king bleed, her father smashed by an orc, and her brothers slain by a witch. It was there she became ruthless and bloodthirsty taking the lives of all monsters around her. She would avenge them all.
She would do it with honor.
RP Sample
:
"FATHER!" the girl cried out. The haze covered the battlefield and the mist coated her eyes. Why did she now show emotion? To shoe emotion was to be weak. When she was needed to be strong, she would cry? But this was beyond disbelief. It was just shocking, so sudden... so unplanned. "ORION!" she called out.
She wore her silver plates, stained with the blood of her enemies. Her ebony was carried into the wind, her chainmail began to clang together to make the constant sound of clashing metal. Her face was full of fear and awe. He father and brother were the best sword fighters in the kingdom. It was by default that they were the Royal Kingsmen, and it was her choice to protect them. But had she failed?
No, she still had a chance. They weren't dead yet. The creature that struck them down was a massive orc. A horrid beast. HIs teeth bit into his own lip, his face held the constant expression of constipation. She had a chance. She could save them. She immediately charged at the monster with her sword, Excalibur, risen into the sky. She would fool him at the last minute. She was not going to slam the sword downward, but rather in an upward motion... swinging the blade vertically in a 360. But then, it happened. Everyone saw it. And no one knew why...
He
leaped in front of her, pushing her back. The very man they were trying to protect was doing something so rash? But then she understood what he was doing.
She watched the tree spin, and sweep the masses, the very king was hit by the end of the large log sending him flying. He was trying to save the girl, but why? Was it for her? Was it instinct? She had been clouded by the haze of war, the curtain of death. There was too many questions and not enough answers. Then she felt the pain... She looked down to find something protruding her abdomen. She gave a slight tilt of her head to observe the object. "Father..." her words fell from her mouth as the troll jammed the weapon even deeper past her body. She winced with pain, letting her scarlet liquid color her gray metal as well. She turned with her weapon in hand, thinking no more about the orc, but of the one who had struck her. She spun with the blade, beheading the beast with relative ease. She was full of rage, foolish rage. She went on an onslought to slay everything about her. Her blade went left, then it crashed to the right, slicing open heads, stomachs and more. Organs filled her battlefield. She stomped on the intestines of the creatures that had killed the last of her family. But that was it... they weren't dead,
not yet
.
She focused her view to that of the great creature, only to make another hasteful dash towards it. She leaps up, jumoing over the swing of the mighty tree only to land on his massive arm. She ran up his limb to aim for his face. There was nothing for her to look forward to in this world, she would make sure he could
see
that too. She penetrated his eye with the tip of blade, running the force of her weapon deep into the skull of the beast.
The cries and the yelp of the beast could be heard as he staggered. Kusatta twisted the weapon, letting it tear the tissues in his eye and rip apart the brain she had entered...
... When the battle ended, no one spoke a word. They picked up the king's body, lifeless and frail. There was no need to talk anymore. Kusatta was the Queen.
And no one had to explain why.
Who do you know?
Reference
: Kaseki
Face claim
: Custom