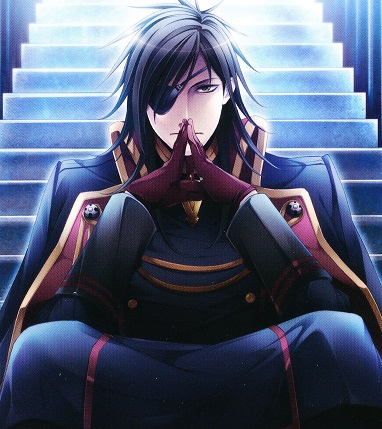 Who are you?
Name
: Oski Astal (Gods have no last name but he has adopted the last name of Astal for unknown reasons)
Nickname
: The Contractor, The Great, The Mad God, The God Eye.
Age
: Ageless
Sexuality
: Straight
Race
: God (Appears to be 25)
Special features
: He wears an eye patch over his right eye to hid one of his secrets.
What are you like?
Personality
: Oski is a one of a kind when it comes to his personality. As a God he has been around for a very long time now and his name has gone across the lands but as 'Oski the Contractor' because of his particular brand of power which makes him rather interesting. Oski prefers to stick to his estate at times and tinker with things though he is not a shut in. Oski never shares his whole thoughts with people, he normally only leaves them with small fragments of what he's thinking to get others to try to pick his brain about his ideas though he never fully pulls back the curtains on the situations. Oski's mind is actually a very dark place, very few people ever actually find out about this because of Oski's nature but his head is swirling with all sorts of demons and skeletons. To make up for the lack of good things in his mind, Oski generally tends to try as hard as he can to attain what he wants in the physical world. Oski is revered as a rather good tactician by the terms of all the empires though Oski only contracts his aid out to the highest bidder, he cares not for the simple squabbles of the mortals that run around the planet, he is a God and he knows it.
Oski has no problem with sexuality, he in his Godly mind knows he is a male God and he likes the company of females, God or not. When it comes to flirting, Oski's only skills are his reputation which greatly proceeds him and his knack for razor sharp wit and cunning. Around other Gods, Oski can be quite reserved as he still doesn't know what most of the goals of his brothers and sisters are so he tries to sit back and assess the other Gods as if they were test subjects. So far Oski has yet to actually make an alliance with any other Gods because none have been needed for him. When it comes to being around other men, Oski likes to be the at least intellectually dominant one of the group and always tries to be the leader whenever he chooses to be apart of something.
Oski is a firm believer in the ideal that if you want something done right you must do it yourself, while Oski would love to place all his trust in his subordinates he knows that none of them amount to the power and skill that he has and so sometimes he does what he needs to do. Oski often isn't with his subordinates because he is off completing some of the more undercover jobs that he must do, fraternizing with enemies, assassinating possible threats, negotiating terms with others, getting what he wants. Oski is a very dangerous man to be caught up with especially if you are in the ways of his goals, while he doesn't like to have to be in all out combat, he isn't one to complain about it and often he will get excited once he has decided it is his turn to fight, he goes on a bit of a powerful rage, crushing all that stands in his way.
Likes
:
-Fine Wine
-Women
-Power
-Relaxing
-Speaking in riddles/not being very direct in explanation
Dislikes
:
-Those who don't trust him
-Those who don't follow his instructions to the T
-Buzzkills
-Defiant humans
Motivations
:
-Power: Since the beginning of his existence as a God, Oski has always been low key obsessed with power which often causes him to ask way to many questions and go on way to many dangerous adventures.
-Respect: Oski has always made a point to slowly craft a 'legend' about himself that for the most part has been going rather well. He wants to become one of the most prestigious of the Gods.
Fears
:
-Humiliation: Oski greatly fears humiliation and ridicule, Oski is somewhat a self-absorbed God who tries very hard to keep up personal appearances so humiliation is his mortal enemy.
-Rise of the Fallen: Oski being a natural enemy to the Fallen Gods would stop at nothing to impede the growth in power of the Fallen Gods and fears that one day the balance of power could shift to the Fallen Gods.
What do you look like?
Height
: 6'3"
Weight
: 164 lbs.
Eye color
: Brown
Hair color
: Jet Black
Appearance
:
Spoiler:
Where have you been?
History
: One Thousand years ago when Oski became a God, he was filled with divine power and it was that very instant that he fell in love with that power. Starting out in the Aether Realm, it was rather lonely for him because there were so few already existing Gods. One that he knew, Maldrean has been the first one to venture out of the Aether and go to the humans simply to check out the world. Oski could remember leaving the Aether shortly after, curious as to why Maldrean would do such a silly thing. That is when Oski discovered the wonders of the human world, slowly but surely they learned to use magic as the Gods did though it was much weaker and rather sad in Oski's opinion. Later he would come to find out that Maldrean had been the one who taught the humans how to produce magic like the Gods did. Oski personally wasn't mad about this and would consider it an experiment to see how the humans would measure up to the Gods. Over the thousand years however, Oski was sadly upset about the effort of the humans and their endevours in magic, it was nothing compares to the power of him and his kind. Oski decided that it would be up to him to show the world what 'real' magic was and so he began his campaign across the lands, preforming 'miracles' in the terms of humans, to him it was mere childs play though. Oski would grant humans power beyond what they could actually handle through the means of a magical contract which earned him the title of 'The Contractor' which was the beginning of his legend, he rather liked that.
RP Sample
:
Spoiler:

Riding in his two horse drawn carriage by one of his new 'subjects', Oski sat in the rather fine interiored cart in luxury, sitting back in his seat with his feet up on the other side of the seat and dozing off. He had a long trip ahead of him because he was just aimlessly traveling across the lands to see what he could see and to visit the kingdoms, he always found the politics of humans to be rather amusing and of course there were plenty of fine maiden within the confines of the stone walls the humans built to keep other humans out because surely the walls of stone could not keep Oski the great out, or so he though. As Oski slowly slipped away into a comfortable dream he began to smirk. The beginning of the dream was great, he was sitting on a throne that was high above the lands, a structure that he had humans build for him personally. The throne was made of fine royal red cloth and cherry wood, padded all over for his own comfort.

As he leaned back in this grand chair of his, elbow against the elbow rest to prop up his hand which held his head which he had tilted down into his great and powerful hand that was gloved by a pristine red linen, very soft to the touch. A large golden and very jeweled crown rest crookedly atop his head because he was leaning. Beside him on their side as well as behind him were the worlds fairest maidens that it had to offer him. The one behind him whispered tales of his success into his ear and gently massaged his shoulders, another was carefully feeding him the finest grapes from the wonderful vineyards of the Gestark winelands as well as passing a massive golden chalice with wine from the same grapes to him and to his lips so that he may drink from it without effort. The last girl held a massive palm leaf and gently swayed it back and forth which sent a gently and calming breeze onto Oski's figure. The girl then whispered something to him that made him slowly sit up and perk up with perverted excitement, looking at all three of the girls with a terrible smirk.

Suddenly there was a loud *THUD* in the dream and Oski fell off of the bench seat of his grand carriage and woke up on the floor very disappointing and annoyed. "HEMSWORTH" Oski yelled out to his carriage drive. Oski then got up and opened the small side door to look out at the driver and the two horses that were pulling him. Before he could continue to berate his 'subject' his breath was taken away. "Here we are sir," Hemsworth said as he looked back at his master, "The wondrous Sky Mountains." Oski could only look in amazement for a moment at the very large rock structures which towered over even him it both size and beauty. He was rather jealous of the mountains, crowned with the whitest and most icy crown there was and accompanied by the white fluff of the sky along with its piercing blue color.

As Oski had his moment of amazement, Hemsworth had gone back to doing his job of directing the horses up the now quickly narrowing dirt road which was now leading them up into the vast mountains on another adventure. Unfortunately for the both of them, Oski did not see the massive branch that was headed right for his head because he was too busy looking at the mountains. *SMACK* Oski was hit right in the face by the long hand of the tree which seemed to not be very friendly with Oski. Oski fell out of the carriage and landed on the ground. Quickly getting up Oski chased after the carriage screaming his subjects name at the top of his lungs and his fists raised in rage, don't forget the large bump on his head from the powerful hand of the tree he had just met.
Who do you know?
Reference
: Created it. O.o
Face claim
: Jin/Bloody Call
Last edited by Oski Astal on Wed Dec 10, 2014 6:59 pm; edited 4 times in total