Weapon/Armor name
: Dream Conqueror
Weapon/Armor rank
: Transcender
Description
: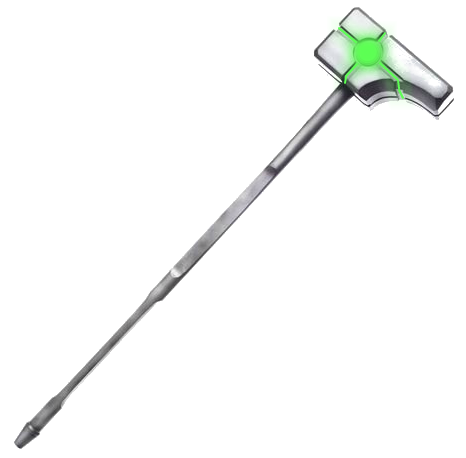 Dream Conqueror was a rather typical war-hammer when Urek found it. A legendary knight of an ancient kingdom had once carried it into many battles. It was said that this man was the sole protector of the kingdom, and that he had never lost a duel. Urek had spied on a duel the man was partaking in, it was an unfair duel as the opponent had cheated and poisoned the Knight before slaying him on the spot. Later that night Urek had went and retrieved the hammer using it to crush the skull of the cheater, but it wasn't until he took it back to his own dimension and infused it with raw Aether that it became truly his(It will only respond to his touch and allow him to pick it up, to any other mortal or god unless willed by him it becomes a weight unknown to them that they cannot lift.). The hammer is 5 feet long in total, the head being 3 ft x 3ft.
Ability/Spell name
: Shatter
Description
: Urek has used the Dream Conqueror to harness the power of raw Aether. When he points the head of the hammer towards an enemy it can fire a concentrated force of Aether out that is highly destructive. The blast is 10m in diameter and reaches up to 115m if it hits nothing.
Duration and Cooldown
: Instant, 4 posts.
Strength
:
- Can be used for melee as well as mid-distances.
- Causes massive concussive force that breaks bones, the raw Aether causes massive burns through out most of the body, and the shockwave can disable weapons/armor's abilities of the same rank or lower.
Weakness
:
- Is a melee weapon so must get in close when not using the ability.
- Opponents of the same tier can withstand most of the damage, but still receive various burns and larger bones are broken.
- The blast can only be used 3 times in a thread to disable a weapon's or armor's ability.
Last edited by Urek on Wed Jan 14, 2015 1:54 am; edited 4 times in total