"Will your swansong be as beautiful as the last one?"
Name
: Norou Shikage ("呪い死の影" 'Cursed death shadow')
Nickname
: 'Cursed death shadow'
Age
: Eighteen
Sexuality
: Heterosexul
Race
: Human
Special features
: Norou's eye's are crimson red, it is said that he is a demon though it is only that the Shikage bloodline was cursed to have the eyes of a killer. There is a legend that say, long ago a Shikame befriended a God only to betray him later. Before the Shikage warrior could strike the final blow to the God, a curse was laid on him and his entire family, marking them with the eyes of a killer.
What are you like?
Personality
: Because of Norou's legendary lineage, he is forever cursed with the eyes of a killer. Because of this, Norou perceives everything for the rest of his life through the eyes of someone who's very purpose is to kill, destroy and rend. The cold and callous exterior of Norou creates a rather invisible barrier around him, concealing in the hatred and lust for murder so that not even a tiny bit is allowed to escape his very thoughts. At any given moment, Norou is faced with the problems of sometimes not being able to clear him mind of the dark thoughts which not only pulse through his mind but quakes his entire body as well. Over time, Norou has come to be able to suppress the urges to draw his blade and slay whatever it is that he desires to slay. Because of this barrier around Norou it makes it very hard for him to be apart of normal society because his thoughts are constantly flooded with the intentions of a murderer. Norou has a hard time being around a general public of people because it only heightens the lust for killing that is hardwired into his existence, this effects every action and daily task that any normal person would have to do in order to survive.
Norou has a very hard time making friends because he is nothing more than a cursed child who can only sometimes hold back the urges to do what is taboo within the world of normal people, often people find his eyes alone, before even being able to speak, entirely to intimidating to make Norou an approachable person. Norou is a man of very few words as he has nothing important to say except the entire point of what he must say, small talk is something that Norou struggles with. Often times Norou is alone engaging in activities which he was taught because when his mind wander he becomes someone with time to do something which inevitably will end in a murder which in the end is not what Norou wishes to do. There are very few people who have the social patience to talk to Norou for long enough for him to acknowledge your existence. Getting Norou to say things to someone such as 'thank you' is a challenge and if a person should receive any sort of acknowledgement of gratitude it would be considered something that happens once every blue moon.
Norou see's the world around him as an ongoing battle field at all times where anything can happen if you are not on your toes, to him it is as if the world is at war even if people are not fighting yet. Norou rationalizes the fact that someone may be trying to kill him at any moment when someone appears to be watching him because of his demeanor or looks. One can tell just by watching his eye movements and his bodily movements that Norou has seen, done and been through things that most people are far too sheltered from on a daily basis to possibly understand what his world is like. Norou thinks that when someone comes to him in aid, no matter how nice they may seem or however much knowledge Norou may have on them, he could never fully know their intentions and thinks that no matter what, people will always want something in exchange for their kindness, aid or even advice.
Underneath all the outward madness and rationalizations of Norou, there is a soft and much more human-like core within him. No matter what curse he may have which affects how he is forced to live his life, Norou is indeed a part of the human race and has the same feelings, senses and compassion as anyone else is born with, no matter how deeply hidden within him it is. There are special times when Norou is in what would be called an 'off' mood form his typical personality where he is able to converse with someone and engage in a normal conversation with them. These types of people who are capable of cleaning off the tarnished soul of Norou's and can get Norou to not be so cold and callous around them would be considered special people even to Norou, he grows somewhat attached and protective of these people.
Likes
:
-Killing
-Hunting
-Swordsmanship
-Combat
-Training
-Swimming
-Learning
Dislikes
:
-Compassion
-Cowards
-Mercy
-Foolishness
-Servitude
-Subjugation
Motivations
:
Power: Because of the cursed lineage that Norou was fated to be born in, he is a natural born killer. Being a natural born killer, Norou sees that he needs nothing else in his life but more power so that he can kill any foe that wishes to get ins his way.
Understanding: Norou's life is over-complicated by the curse laid upon his lineage and so he seeks understanding of the world, he seeks understanding of other people and why they are not like him, this however is something that is more inward in Norou, he would never admit to the longing to understand.
Purpose: Norou seeks his true purpose, he often wonders why the betrayed God would curse his ancestor instead of end his entire family line in that instant. Norou wishes to understand what the purpose of his very being is if all he wishes to do is kill.
Fears
:
Weakness: Norou fears becoming weak, for all of Norou's life he has been a killer of all sorts and so he fears losing power because then he knows that he would never be able to find his true purpose.
Loss of control: Norou is forced by the curse on his bloodline to be the way that he is, if he had a choice he would choose to live a different life than the one he is cursed with. Norou fears losing what already little control he has over the madness that swims around in his head.
What do you look like?
Height
: 5'11"
Weight
: 149 lbs.
Eye color
: Crimson
Hair color
: Black/Dark navy
Appearance
:
Spoiler:
Where have you been?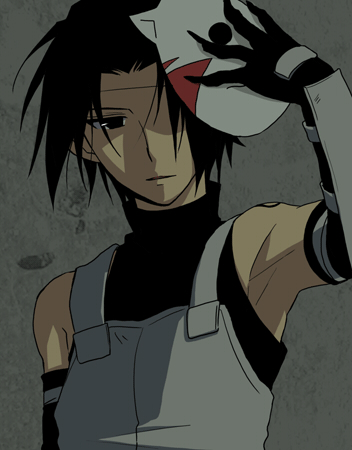 History
: Norou was taken from his original parents at birth, there is a tragic story behind all of this that Norou has no memory of because he was far too young to remember. For as long as Norou could remember he had always living within the compound. Norou was raised by an elite task force unit's compound which belonged to a village of people who hid themselves in the free lands and decided to live outside of the rules of kingdoms so that they may keep their own traditions sacred. When he was acquired by the village, they saw his eye's and without even knowing his lineage they knew that he was born to do nothing but bring bloodshed, pain and sorrow. Norou was sent to the compound to begin his training as an elite warrior within the tribes military. This unit was no ordinary unit however, it was much more like a brotherhood of people who should be outcast from society because they would be the ones to carry out acts that the rulers of that nation wished not for people to see, they worked under the veil of night and their activities never reached the light of the public. At the age of seven, Norou began his training to become a member of the elite group known as 'Raven' and so he was given a blade, a combat outfit, body armor and a mask which was unique to each student.
His training was intense and life-threatening, every day him and his squad would be forced to wake up before the light of day had even peaked out of the clouds. They would undergo live combat training for hours a day with real weapons, sustaining injuries that would otherwise be fatal from time to time if they hadn't had magical healers assigned to the compound. Many of Norou's squad of trainee's died during the process of training however, which would explain why Raven had so few actual members that weren't just there to be assigned to take care of the compound of heal the injured. Norou knew in his mind that what they were being put through was nothing compared to what those few real members had been through, they weren't even being trained by the actual members yet, he knew this because even with his nature, any time he would get close to a Raven member his body would tense up and he could feel fear for his own life even from the most passive of movements from one of them. Norou tried to be unphased so that he would stand out from the crowd of others who were simply just good fighters. Norou knew that these people were just like him, maybe they weren't cursed like him but over the years their minds had become tarnished to the point where they would be able to relate to Norou.
Norou was one of the three trainee's that had survived out of twenty five starting trainee's. Now that they had finished their training, the real training would finally begin. Being trained by actual Raven members was always a life or death situation where their bodies and minds were pushed to the limits so that they may become a type of killer that most ever got to see, a type of killer that could make decisions faster than a normal person could think. Norou was trained in several arts which became useful for a grade of assassin that simply could not be matched, he was taught to read muscle movements and learned the art of offensive acupuncture to make him deadly even without a weapon. Once the training with Raven members had ended, Norou was actually the only one left and so he joined the brotherhood of 'Raven'. It was not very long before Norou's capabilities increased exponentially to the point where despite the major gap in experience between him and the other members, Norou was now in competition with them. Even among the constant company of killers like himself, Norou still find himself to be the outcast of the group, Norou found that even though they were ruthless killers and it was actually their job, he had sadly been wrong from the very beginning.
These Raven's were still unlike Norou, despite their job they were still much more human than Norou was. They didn't have the same level of drive that Norou had, they didn't have the same level of blood lust that Norou found himself caught in every single day. These people had families still and had time where they were not busy where they'd go back into society and do things that normal people would do, sometimes Norou would sneak out of the compound and stalk his brothers to see what they did with their lives outside of the compound. Norou would hide in the shadows only to see that these people were still happy with their miserable lives. Had they no shame? Norou began to resent his brothers for being so much more normal than he was because he could see their joyful moments where as he hadn't so much as ever had a joyful moment in his life. Norou's intentions of killing had taken an odd fluctuation when he started to slowly learn about his peers lives and accidentally, something within his will to sustain his lineage simply broke. He wishes for his peers to feel the misery and sorrow that the same people they hunted together felt.
On a night where the sky poured tears down from the heavens, Norou suited himself up within the concealment of the night while on the compound. His peers had been given time off since the completion of their last job together but since Norou had no life outside of the compound, he would rarely leave. He was being controlled like a manikin by his curse, he went off into the dark and raining night to seek out his peers. One by one, he payed them a visit so that he may explain to them that they are not the same and that they could never possibly feel the level of dread and despair that he felt since he had found out that in the end, he had still yet to find anyone like him even in his own brothers. Norou would bring them out into the street and give them a weapon, allowing them a chance to fight for their lives if they so wished to keep their life and their joy. Unfortunately there had been something possessing Norou, something more that seemed to be within Norou's normal aura that seemed to fill the nights air with hatred and lust. None of his brothers had the power to stop him and so he went around town in the dead of night slaying all of those who he once called 'brother'. After this incident, Norou went off to the compound where he hid himself until the morning, not being able to sleep all he could do was wipe the blood from his blade which never seemed to wash off, in his mind the blood was still stained there on his blade, forever to be apart of his curse.
RP Sample
: N/A
Who do you know?
Reference
: Oski's pvp alt.
Face claim
: Norou Shikage/Sasuke Uchiha/Naruto
Last edited by Norou on Sat Dec 20, 2014 4:17 pm; edited 6 times in total