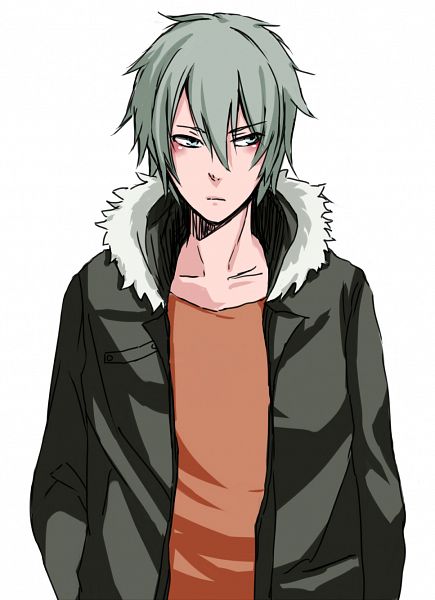 Who are you?
Name
: Brandon Vista
Codename
: White Knight
Age
: 21
Sexuality
: Asexual
Nationality
: American
Special features
: Unique hair color
I.D. Number
: X00202
What are you like?
Personality
: Brandon is essentially emotionless and is always serious. Although, it can change if something out of the ordinary or shocking occurred. His manner of speech is very detached and prefers not to bring personal feelings on the table. Despite being emotionless, he is very respectful to others, even if they don't deserve it. Then again, he is also incapable of understanding human emotions and would sometimes ignore human values on numerous occasions. Though, he'll understand human values when someone else explain it to him, in which case, he'll be ashamed of himself for his own lack of consideration. Another thing to know about him is that he also doesn't like violence and would often cover his own eyes to avoid being a spectator. He would often be the voice of reason and will try to not be involve in any unnecessary violence. However, he has been known to get angry with those who insult those that are actually close to him.
Unfortunately, Brandon is afflicted with a few mental illnesses. The most prominent illness is that he developed a form of schizophrenia. It's not too serious, only that he always hear the sound of a clock ticking. This would've driven him mad, but he managed to maintain his own composure due to his other illness. He is also afflicted with PTSD after witnessing the death of his own mother at the hands of his older brother, Jayden. At the time, he was slowly losing his sanity and developed the belief that the constant ticking is that a clock is counting down to the moment that Jayden will kill everyone. With this belief, he endured the constant ticking to ensure that Jayden will one day let his guard down so that Brandon may take his life.
Likes
:
1. Jazz- Brandon has a fondness towards jazz music, despite it being incredibly outdated. Apparently, it also drown out the constant ticking he hears for his entire life.
2. Reading- He enjoys reading literature and has a preference for sci-fi and fantasy novels.
3. Games- Despite his personality, he actually enjoys playing games with some level of physical activity.
Dislikes
:
1. Violence- He does not enjoy unnecessary violence and would try to be the voice of reason.
2. Despair- He apparently grows frustrated with those who have lost their will to live.
3. Jayden Vista- Despite being his brother, Brandon developed a deep hatred towards his older sibling for murdering their mother and because of his own insanity.
4. Ticking- Due to being afflicted with a form of schizophrenia, he endured the constant sound of a clock ticking for his entire life. It would've driven him mad if it wasn't for his deep hatred for his brother, Jayden.
Motivations
:
1. The Death of Jayden Vista- Brandon developed the belief that his mental illness is counting down to the moment that Jayden will kill everyone and believes that it is his duty to kill him since no one will ever believe him.
2. Protection of Loved Ones- Despite hating his own older brother, he still cares greatly about his the rest of his family and the few friends he has. He would give his life to ensure that they live.
Fears
:
1. The Ticking Stops- Brandon's greatest fear is that the ticking stops when Jayden is still alive.
2. Failure in Protecting- Brandon is afraid that he is not enough to save those that are significant to him.
What do you look like?
Height
: 172 cm (5'8")
Weight
: 164 lbs
Eye color
: Dark Blue/Green
Hair color
: Dark Gray
Appearance
: Brandon has dark blue/green eyes and messy short dark gray hair. He stands at 5'8" and weighs about 164 lbs with a pale complexion. He typically wears casual clothing which consists of a orange t-shirt under a black bomber jacket with his hood trimmed in fur, light grey jeans, white high top sneakers.
However, should he be on duty, he would change his attire to meet the specification of his job. He would replace his sneakers with combat boots, his t-shirt for a black tank top with the rest being replaced by standard military clothing.
Where have you been?
History
: Brandon was born into a prestigious family known as the Vistas, one of the wealthiest families in the world before the time the Wraiths arrived. When Brandon was born it was right after the invasion of the Wraiths, a year after the the rifts opened. The Vistas, being the rich people they were, paid for top notch security for the family. His father Jason hired a security force of 2,000 men which used weapons beyond that of the current time, the predecessors for the arcs. With the advanced weaponry and high manpower the Vistas were able to sustain themselves and the people close to them inside their fortress like compound, and this lasted for 7 years. Brandon was born within the compound, with Jayden being the only one to have been born before the invasion. He was not the only child born within the compound. After the invasion, there were three sons and two daughters that Jason had with his wife, Eden. When he could walk and hold objects, he was soon trained to combat the Wraiths of the future. However, he was quickly considered a pacifist and had an aversion for unnecessary violence. This puts him at odds with his father, which left his mother being the only one to fully care about him. He later decided to train with the use of a shield instead. He stated that swords and other weapons are designed to kill, not to protect. He explained that a shield is used to defense and is best suited for protecting others. Unfortunately, it is at that time when he became afflicted with a mental illness where he is constantly hearing the sound of a clock ticking.
As time went on research into wraiths progressed and the Vistas scientist thought they found a way to make a perfect soldier, by infusing a human with the DNA of a wraith. The scientist knew they only had one attempt at this so Brandon's parents, Jason and Eden decided to let the scientist do the procedure on their first born son, Jayden. And so the procedure was done but they did not get the desired results of making a true human wraith hybrid, however Jayden was gifted with peak human physical capabilities. Even thought this was a success it did not come without consequences, Jayden went wild and savage like a wraith a few minutes following the procedure. Before the procedures, the Vistas were watching behind a window with the other scientists to observe. Jayden destroyed the window and attempted to kill everyone behind it. However, right as he was about to kill his own siblings, Eden shot Jayden with a needle that contains poison of a Wraith. However the poison had no effect and only angered him. Jayden proceeded to kill their mother before their eyes. A few seconds after killing their mother, he had finally calmed down. Eden was later buried in the garden of the compound, where she spent the most time in.
Brandon developed PTSD after witnessing his mother's death at the hands of his older brother, Jayden. This later caused him to develop the belief that the constant ticking that he has been hearing is counting down to the moment that Jayden will kill everyone. This will fuel his desire to kill his brother before that day comes. He is not willing to allow Jayden to kill more of their family.
Two years passed and Brandon was 8 at the time, it was the year that his father opened the compound to other surviving members of the world. Their compound was located in L.A. and was protected from the Wraiths by a dome shield. After opening it to other survivors they would raise the shield everyday at 12 noon for 1 hour so that they could come in. After a month or so they had gathered enough people to start a organization. This organization would be called Black Lotus and would be led by the head of the family, Jason. Despite his age, and more about his strengths, Jayden was chosen as second-in-command of the organization while Brandon remained in training.
Ten years passed and soon the Black Lotus fell to the Wraiths and the surviving members which included all of the Vista family, two of their scientist, and 5 original members all fled from the compound only surviving due to Jayden's enhanced abilities. They had heard of another organization known as the Vanguard who had very powerful weapons to fight the Wraiths, far more powerful than the weapons they were using. And so the surviving members of the Black Lotus went and joined the Vanguard and vowed that one day they would end the Wraith threat and return the world to normal. Brandon participated in the Vanguard program to increase his skills and to one day kill his brother before the ticking stops. When Arcs were being produced, he was compatible to an Arc in the form of a shield. Now he's aiming for the co-leader position of Beta Squad to test his skills and to protect those he cares from the future that Jayden will bring.
RP Sample
: N/A
Who do you know?
Reference
: Wave Darkbright
Face claim
: Akira - Togainu no Chi